"That's why her hair is so big... it's full of secrets!"
Just kidding. That's a "Mean Girls" quote, only referenced because of the hidden imagery in the hair of the girl above. This I.F. submission of mine is for the theme "Secret," and is a follow-up to one I posted a while ago. Her face is loosely based on the protagonist of "Revenge," and the goings-on in her hair tell hints of what happened throughout the story of the initial season.
I think she's the perfect character for the theme of "Secret," because her big secret is that she's living under a false identity, and none of the people she lives amongst know that she's returned to town, to avenge her father's framing for a crime he didn't commit, and death. If they knew she'd been born Amanda Clarke (and was the daughter of the man they had to conspire against, to save themselves), her revenge-y plans would fall apart. The name she goes by is Emily Thorne, so, on the interwebs she's usually referred to as "Emanda." But, nobody knows her "Secret." On a technical level, I think the images hidden in her hair constitute "secret," or hidden, images, so there's that :-p
Above is a picture of this same "Emanda" inspired piece, when it was in progress, where I used computer manipulation for that Old-Timey, Sepia-y, "Faded" look. I submitted that for the I.F. theme, "Faded."
I posted this awesome GIF last time, to showcase Emanda's perfected rage glare, so here it is again: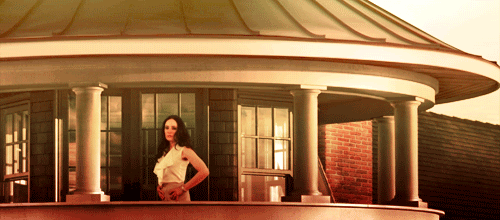 Now that I've officially dipped into the pool of fan-art, I will swim away quietly! Links below:
To see other pieces I've done in the upcoming series about "faces," please go to:
http://drawdvl.com/face-and-spot-illustrations.html
To submit or see other work at I.F., please go to:
http://illustrationfriday.com/
Happy Illustrating and Happy Friday!